Stato della privacy digitale
Come i dati vengono raccolti, monetizzati e persi dai grandi analizzatori di dati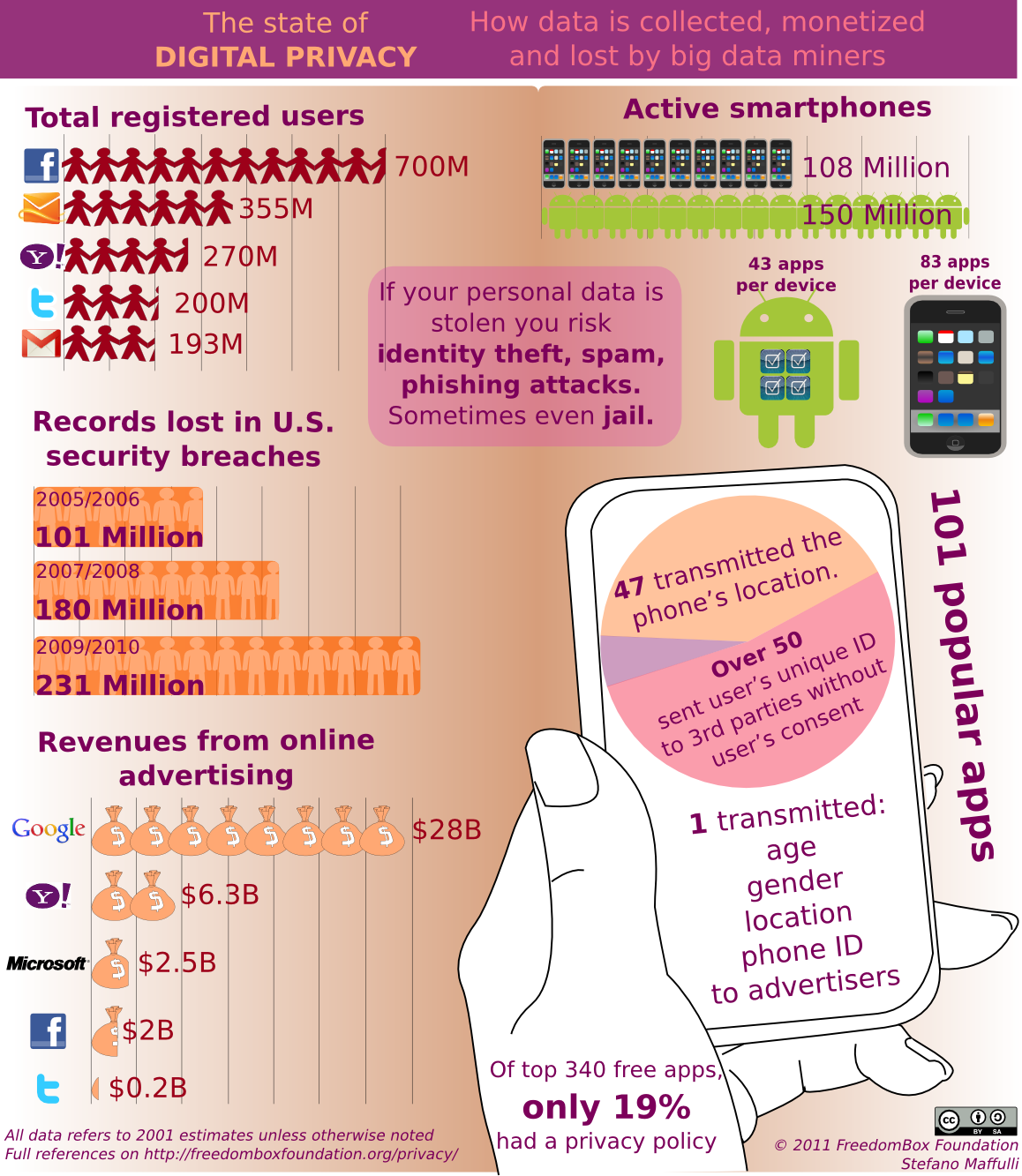 Ogni volta che carichi una foto su Facebook oppure usi un'applicazione sul tuo smartphone, stai scambiando un piccolo vantaggio con ciò che equivale a una grande perdita di privacy e a un potenziale furto d'identità.
You may not read those lengthy terms of service -- and 19% percent free apps don't even bother with them -- but they dictate what corporations can do with your information and what happens when those services are cracked into. Other risks you face while enjoying an app for that include phishing attacks, spam and identity theft to more serious like exposure of medical conditions and even jail.
La Fondazione FreedomBox ha tracciato lo stato attuale della privacy, o la sua mancanza, nel mondo digitale odierno.
I nostri dati, tratti da fonti autorevoli, mostrano che le violazioni della sicurezza si stanno moltiplicando, mentre un numero crescente di persone si affida ad applicazioni e social networks. Allo stesso tempo i ricavi generati dalla pubblicità che usa i tuoi dati personali stanno anch'essi aumentando in modo esponenziale -- così le stesse società che vendono i tuoi dati per fare soldi sono meno in grado di proteggerti dallo sfruttamento.
Breaches like the one that downed Sony Corp. in April will only become more common: the Playstation Network compromised an estimated over 100 million accounts containing unencrypted personal information such as names, addresses, birth dates, login credentials in addition to potentially tens of thousands or even millions of credit card numbers. A breach of security in South Korean most popular social network led to the loss of private information for 35 million people, almost 70% of the total Korean population.
A staggering 600 million records have been breached due to the roughly 2,460 data breaches made public since 2005.
Frankly, we think that's too much information for the pleasure to be had for a few hours of entertainment.
It doesn't stop there. Last December, the Wall Street Journal investigated the behavior of the 101 most popular mobile apps, finding that more than half transmitted the user's unique device ID to third parties without the user's consent. Forty-seven apps transmitted the phone's location. One popular music app, Pandora, sent users' age, gender, location and phone identifier to various ad networks.
The complete data set is attached as an infographic. Please feel free to use our infographic crediting FreedomBox Foundation, as specified by its Creative Commons BY-SA license.
Sources
http://www.email-marketing-reports.com/metrics/email-statistics.htm
http://thenextweb.com/google/2011/07/14/there-are-now-550000-android-phones-activated-every-day/
http://www.apple.com/pr/library/2011/07/19Apple-Reports-Third-Quarter-Results.html
http://investor.yahoo.net/sec.cfm?DocType=Annual&Year=2011&FormatFilter=
http://investor.google.com/financial/tables.html
http://www.microsoft.com/investor/EarningsAndFinancials/Earnings/PressReleaseAndWebcast/FY11/Q4/default.aspx
http://online.wsj.com/article/SB10001424052748704436004576297310274876624.html
http://www.mercurynews.com/wiretap/ci_18596988?nclick_check=1
http://www.privacyrights.org/data-breach#CP
Mark Hachman, Most Mobile Apps Lack Privacy Policies: Study, PC MAGAZINE, April 27, 2011
Scott Thurm and Yukari Iwatani Kane, Your Apps are Watching You, THE WALL STREET JOURNAL, December 17, 2010